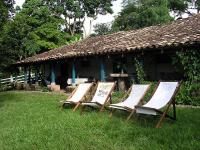 Hacienda San Lucas
Location
Near Copán Ruinas (Copán and the West, Honduras)
Description
A pretty hacienda owned by the same family for over a hundred years. There is a wonderful kitchen with traditional log stove on which meals are prepared with fresh local ingredients. The gardens have views over a river to the ruins. The tiny Sapos Maya site is on the property but the major attraction is the nearby site of Copán, with its fabulous carved stelae.
Activities
The hacienda has its own trails, of both archaeological and agricultural interest.
Accommodation
There are eight bedrooms in total, six of which are above the main house in two separate cabins. These have been tastefully done with cedar wood ceiling and fittings, which give a lovely aroma to the room.
Our comments
While the hotels in the town of Copán are perfectly adequate, a stay at San Lucas is much more rewarding - the whole property exudes a calm and relaxed air.
Client comments and reviews
What a beautiful place. I cannot remember the last time I was so relaxed. And the service was honestly second to none. We had a lovely personal welcome from the manager, Argi, who came out to the car park to greet us. The food was superb. I couldn't believe how many courses kept coming at dinner! And all the staff were obviously hand-picked. (And my children loved the dogs!) - SI (April 2012)
The Hacienda San Lucas was excellent and the food was brilliant. Lovely room (though interesting sorting ourselves out having arrived in the dark to the light of 7 candles). It was a perfect place to stay and we had a marvellous morning at the Copan site with our excellent guide. - SH (February 2011)
This was totally fabulous, we loved the setting and the food was the best we have had on holiday for many years. We arrived on Christmas Day and Flavia the owner had prepared a sumptuous candle-lit dinner for all her guests. She could not do enough for us during our stay, and we cannot recommend her hacienda highly enough. - JF (December 2006)