Ancient Maya ruins, mountains and living culture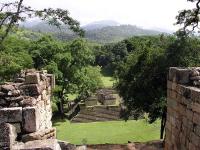 Copán is known for its intricate three-dimensional Maya carvings, unique hieroglyphic stairway, and fully restored Ball Court. Inhabited up until the late 900s or so, archaeologists have identified four distinct phases (or levels) in the construction of the most impressive structures. The archaeological work involved has been immense: after nearly 100 years' work only a quarter of the site has been investigated.
Our preferred accommodation

means that the hotel is one of our Dream Destinations.
Hacienda - Near Copán Ruinas

A pretty hacienda owned by the same family for over a hundred years. There is a wonderful kitchen with traditional log stove on which meals are prepared with fresh local ingredients. The gardens have views over a river to the ruins. The tiny Sapos Maya site is on the property but the major attraction is the nearby site of Copán, with its fabulous carved stelae.

City hotel - Copán Ruinas

Colonial hotel on a corner of the main cobbled square with a nice pool and restaurant. At the weekends, a local band often plays in the bar area.

Inn/Posada - Copán Ruinas

A friendly bed and breakfast. There is a library and a terrace with hammocks to relax in. There are lovely views over the surrounding fields from the grassy area used for breakfast.