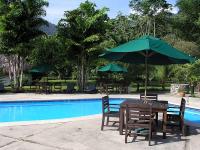 The Lodge at Pico Bonito
Location
Pico Bonito National Park (La Ceiba and Pico Bonito, Honduras)
Description
A comfortable eco-lodge, set in 400 acres of tropical forest, between 2 rivers. There are miles of trails to explore with waterfalls and excellent birdwatching. There are pretty gardens to relax in, a restaurant, bar and a pool.
Activities
Enjoy jungle treks to see wide range of wildlife, dive off the reef, go white water rafting or relax by the swimming pool. A hike on the lodge trails within the Pico Bonito National Park is included as well as entrance to the Tropical Butterfly Farm and Nursery and Serpentarium.
Accommodation
There are 20 wooden cabins with terraces under the shade of the cacao trees. Each has private bathroom with shower, screened windows, ceiling fans, CD player, alarm clock with radio, safe, iPod dock and coffee maker with Honduran organic coffee.
Client comments and reviews
Pico Bonito was ace. The 3 trips we went on were all excellent, especially the Cuera y Salado. We had also time to do several of the trails on our own and swam in the river on all three days at different locations. The birding was brilliant and the food was excellent. The staff were attentive and we had a lovely cabin - a wonderful way to round off a fabulous holiday. - SH (February 2011)