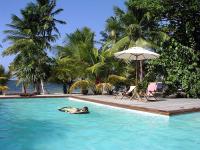 Palmetto Bay Plantation
Location
Palmetto Bay, Roatan (The Bay Islands, Honduras)
Description
Villas set in 100 acres on a private bay on the north side of the island, 30 minutes from the airport. Pool side restaurant and bar, with ocean views.
Activities
Reading, relaxation.
Accommodation
All villas have kitchenette, sitting area, balcony and 2 or 3 bedrooms.
Our comments
Would be useful to have a hire car as it is a little isolated, but Palmetto Bay is a lovely option, especially if you are not in Roatan for the diving.