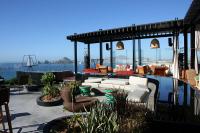 The Cape
Location
Los Cabos (Baja California, Mexico)
Description
A modern beachfront property with views of the famous 'arch'. It is possible to view humpback whales breaching out at sea.
Activities
Enrique Olvera is an acclaimed chef who comes up with some wonderful creations at the 'Manta' restaurant. The sea is not really safe for swimming but there are two pools to choose from, one with sea water.
Accommodation
The 140 rooms are spacious and have views of the ocean.
Our comments
A lovely property that feels quite intimate; modern yet still with some traditional Mexican touches.