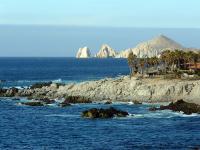 La Paz, in southern Baja California, is a sleepy, well-organised town with a lively malecón and a good base from which to organise whale-watching, sea kayaking, diving and surfing. Whales are best spotted from January to March. An hour's boat ride across the Sea of Cortéz from La Paz takes you to the island of Espiritu Santo, a World Heritage site and idyllic haven of turquoise waters and golden beaches surrounded by arid hills and jagged cliffs.
Magdalena Bay, 4 hours from La Paz, has some of the last breeding grounds for Pacific grey whales, almost hunted to extinction during the 19th century. There are a few whale-watching camps and wildlife enthusiasts can also hope to see coyotes, nesting ospreys and sea turtles.
At the southern extremity of the peninsula, Cabo San Lucas is known for the dramatic waves of the Pacific ocean and beautiful beaches. Inland, the cactus forests present an unusual and stark landscape. The colonial buildings of Todos Santos retain much of their historic character and include a charming museum displaying local traditions.
A haven for artists, particularly from the US, Todo Santos village boasts the original Hotel California, allegedly the inspiration for the Eagles group when composing their most famous song.
Our preferred accommodation