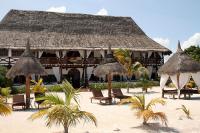 Ser Casasandra
Location
Isla Holbox (Isla Holbox, Mexico)
Description
An elegant beach-front hotel with wonderful views over the crystal clear water. Designed by the Cuban artist Sandra Peréz, the hotel offers a stylish blend of contemporary and colonial design with elegant furniture and colourful fabrics and artwork. Romantic sun loungers line the gardens facing the ocean while the pool is at the back of the hotel, hidden from the public eye. There is an excellent restaurant.
Accommodation
The simple yet elegant rooms are divided between the main building of the hotel and in separate blocks in the garden.
Our comments
A romantic hotel in a prime position on the peninsula.
Client comments and reviews
Casa Sandra on Isla Holbox was a highlight but unfortunately we had poor weather - very windy and cool with no sun, so we didn't get the full benefit of that visit. The meals at Casa Sandra were excellent - VB (January 2019)
Casa Sandra on Isla Holbox was lovely, really good food, walking distance to the town, massive comfy beds, wonderful room décor, fantastic staff (including the head of the restaurant who got up especially early and made us quesadillas for breakfast when we were leaving for Havana). No problems with hot water as well, which after about 16 hours from leaving home to getting there was welcome! - DG (November 2010)