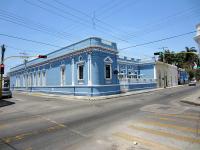 Casa Azul
Location
Mérida (Mérida, Mexico)
Description
A beautiful boutique option in the centre of Mérida (close to the Paseo de Montejo). The décor is luxurious and yet discreet. There is a small swimming pool and restaurant. Great attention to detail has gone into the property and staff are particularly accommodating.
Accommodation
Eight lovely rooms in two categories: suites and master suites. The suites do not have a separate seating area. The master suites each have a king size bed and the regular suites two queens. Each room is individually decorated, in a similar style (quite classic, with a French influence and individually-chosen antique pieces) but different colour schemes.
Our comments
Just lovely - wonderful hospitality in a good location.