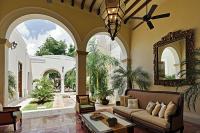 Casa Lecanda
Location
Mérida (Mérida, Mexico)
Description
A restored traditional Yucatecan home which mixes original Meridian style with touches of European luxury. Two blocks from the Paseo de Montejo, Casa Lecanda provides a good location for exploring the city (only fifteen minutes from the airport). There is a small private swimming pool at the back and good service.
Accommodation
Seven rooms in three categories; patio, balcony and garden. Next door, Villa Lecanda is a beautiful, private three-bedroom property which can be rented as a complete unit; it has its own pool and is great for families.
Our comments
A great mid-range B&B option in a handy location.
Client comments and reviews
We loved the townhouse in Merida and our meal at the Italian restaurant adjacent to the hotel. - VB (January 2019)
Excellent hotel with lots of character. - DB (February 2014)