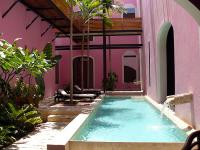 Rosas and Xocolate
Location
Mérida (Mérida, Mexico)
Description
A stylish hotel in a colonial house on the main Paseo de Montejo, a Champs Elysée style boulevard in the north of the city lined with huge mansion houses. A spiral staircase leads up out of the reception area to the rooms. There is a terrace, restaurant, roof top bar (where live music is played at the weekends), gym, pool, spa and a gourmet chocolate shop.
Accommodation
17 rooms, including 3 suites, all spacious, modern and stylish with bright pink furnishings and tiled pink floors. All rooms are well equipped with good bathrooms and outside bath.
Our comments
Lots of steps and very pink! Excellent chocolates in the shop and good restaurant.