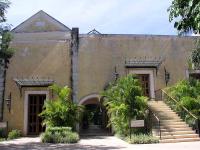 Hacienda Xcanatún
Location
20 minutes from Mérida (Mérida, Mexico)
Description
An 18th century sisal-producing hacienda which opened in January 2000 after 5 years of work recovering and renovating the original buildings which had been abandoned in the 1980s. Many original features have been maintained and it is a mix of historic, traditional and contemporary elements. Suites are set around tropical gardens and there are two pools and a spa, a TV room and excellent restaurant.
Activities
Visit ruins, colonial town of Merida.
Accommodation
The 18 suites are set throughout the gardens in several different buildings and are all slightly different with their own personal features and traditionally furnished. The master suites have a separate sitting room and Jacuzzi and the others are slightly smaller but spacious. They are all well-equipped but rooms do not have a TV.
Client comments and reviews
All the places we stayed in, especially Xcanatun were wonderful and we could easily have spent more time. - MW (November 2009)