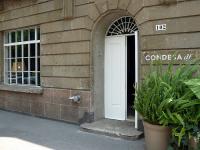 Condesa DF
Location
Colonia Condesa (Mexico City, Mexico)
Description
An ultra trendy hotel, this is a great option for those who want to join the hip and trendy Mexico elite and many famous actors and singers have partied here in the 'top suite'.
Accommodation
There are 40 rooms, including suites with balconies. All are light and airy and quite minimalist in style.
Our comments
This hotel has a great vibe and the rooms feel very fresh and clean.