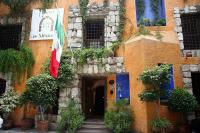 Hotel Busue
Location
Polanco (Mexico City, Mexico)
Description
A beautifully presented house in the quiet yet chic area of Polanco. Breakfast served in the pretty rooftop restaurant. There are lovely sitting areas and small bar.

This hotel was previously called Casa Vieja.
Accommodation
Around 10 stylishly-decorated rooms, around a central atrium - the lower rooms can be slightly dark. Many traditional and local touches in the decor.