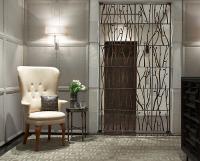 Las Alcobas
Location
Polanco (Mexico City, Mexico)
Description
In the stylish surroundings of Polanco, this small boutique hotel is chic and elegant with good service. A spiral staircase runs the height of the hotel which is a special design feature although there are two lifts as well. There are two restaurants adjoining the hotel, one run by reknowned Mexican chef Marta Ortiz and the other a Mexican cantina. There are also spa facilities.
Activities
Close to bars, restaurants and shops and within easy reach of all the main attractions.
Accommodation
Thirty five luxurious rooms with private bathrooms and amenities. All rooms include use of the mini-bar.
Client comments and reviews
We really liked Las Alcobas; the service was excellent during our brief stay and when we left the staff gave us a farewell gift of a handmade soap! - CH (December 2010)