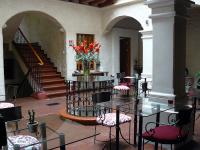 Casa Catrina
Location
Oaxaca (Puebla and Oaxaca, Mexico)
Description
A charming, small boutique hotel in a colonial house that has been beautifully renovated, maintaining many original features. It is 1 block from Santo Domingo Church and a short walk from the main square. 
Accommodation
The 6 rooms are set around a central courtyard on two floors, each with a particular colour scheme that matches the artwork and textiles used in each room. Standard rooms are on the ground floor with the suites upstairs.
Our comments
The 2 Master Suites are very spacious with a lovely outdoor terrace and a Jacuzzi bath. Breakfast only.