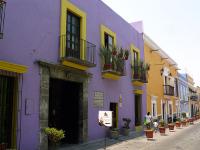 Mesónes Sacristía
Location
Puebla (Puebla and Oaxaca, Mexico)
Description
A small, colonial hotel with lots of character a short walk from the main plaza in a quiet street. The owners have been involved in the antique trade for generations and are well known in Puebla. Meals are either eaten in the courtyard or in the small restaurant, which serves typical food from the area, and there is a bar. The hotel also has a small cookery school.
Accommodation
There are 8 rooms situated around a colourful courtyard filled with plants and Mexican artifacts. They are all different and traditionally furnished with lots of antiques and old pictures giving them an individual character.
Our comments
A bit like an antique shop and some of the rooms slightly over furnished but lots of character and a warm, friendly atmosphere.