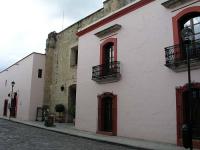 Quinta Real Oaxaca (formerly Camino Real)
Location
Oaxaca (Puebla and Oaxaca, Mexico)
Description
A smart and very central hotel by the Santo Domingo church, built around an old convent with cloisters and passageways. There is a lovely pool, gardens and a restaurant.
Accommodation
Rooms have air-conditioning, a TV and telephone, with either a view to the street or the pool.
Our comments
Probably the most comfortable hotel in the city.
Client comments and reviews
We loved this hotel, it was so comfortable and the historic public areas so beautiful. There were lots of nice touches for Christmas including a traditional party activity of baby Jesus searching for a room throughout different corners of the hotel, and we all sang together the special Posada song. - CH (December 2010)