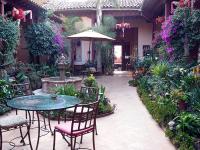 La Casa Encantada
Location
Patzcuaro (The Colonial Heartlands, Mexico)
Description
A lovely hotel just a couple of blocks from the main plaza in this small town. The decoration is typically Mexican in style.
Activities
There is a breakfast room and a patio area for relaxing. There are many local restaurants from which to chose for your other meals.
Accommodation
There are just 10 rooms. The suites have 2 separate bedrooms so are perfect for families.
Our comments
This is a quaint little posada perfect for relaxing or exploring the town on foot.