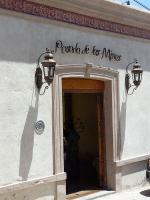 Posada de las Minas
Location
Mineral de Pozos, near San Miguel de Allende (The Colonial Heartlands, Mexico)
Description
A stunning hotel, beautifully and thoughtfully decorated and been brought back to life after its owners bought it as a ruin.
Activities
From here you can visit the old town which is now a ghost town since the mining haciendas in the area were abandoned.
Accommodation
There are 6 rooms plus 2 apartment-type rooms with kitchenettes. Each room has its own theme and is decorated as such.
Our comments
This is a beautiful place to stay and in a very calm little town. The rooms have been decorated with every attention to detail.