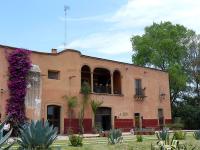 Hacienda Sepulveda
Location
Lagos de Moreno (The Colonial Heartlands, Mexico)
Description
A beautiful family run hacienda which has been owned by the Serrano family for three generations. Juan Alfonso Serrano, the current owner has converted it into a premium property maintaining many original features. The dining room and bar are in the original granary which has thick adobe and brick walls and a wonderful boveda ceiling, the pool is set amoung arches in the old stables and the spa in is the old hay room.
Activities
Riding on the estate is one of the main activities, also mountain biking, hiking and fishing. There is a lake attracting much birdlife and wonderful gardens. The spa has a central Temascal (indigenous steam bath) and offers many treatments.
Accommodation
There are 12 rooms, some named after members of the family, all with their own individual style, original furnishings and a wood burning stove.
Our comments
This hacienda has a real family feel and you can imagine it operating as a full-time hacienda in days-gone-by (it has in fact only been a hotel for the past 6 years).