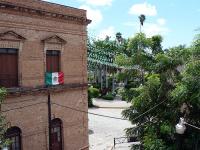 Posada del Hidalgo
Location
El Fuerte (The Copper Canyon, Mexico)
Description
Once the home of the de la Vega family, this beautiful colonial mansion makes the most of its historic connection to the famous El Zorro, who (allegedly) grew up here as a child.
Activities
El Fuerte's main square is delightful for sitting under a shady tree and watching the world go by. The river float trip late afternoon allows the chance to do birdwatching, and perhaps dip in the river to cool off. The museum up in the fort overlooking the town is worth a visit.
Accommodation
Accommodation is grouped into three areas within the hacienda and the most charming part is the Casa Vieja. There are lush gardens, patios and courtyards and many antique furnishings, historic documents and ancient work tools all around. The pool is inviting and the bar next to the pool is very popular for a drink as the sun sets. Musicians play at this time and there is a great atmosphere, especially when the hotel manager (upon special request) appears dressed as Zorro himself.
Our comments
Perfect for a night before or after taking the train to the Copper Canyon. As the property is on a slight hill, it feels slightly cooler than the rest of the town, humidity is often very high here. Food in the hotel restaurant is very good and the whole Zorro experience great fun!

Client comments and reviews
Superb ambience and character. The food was good. - DC (February 2014)