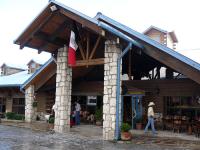 The Lodge at Creel
Location
Creel (The Copper Canyon, Mexico)
Description
In the Best Western chain, this hotel is in the heart of Creel, a one-horse town with a slightly wild west feel about it. Rooms are very large and well-appointed and have an outside swing on the porch. The traditional log-cabin style of architecture and decor is very atmospheric and homely.
Activities
A good base for excursions all around the canyon area. There is a small spa and simple gym and outside play areas for children.
Accommodation
The honeymoon suite has a jacuzzi in the bathroom and a kitchen and dining room so guests can do their own catering. There is a bakery and cafe opening onto the main street, where guests can have fresh pizza from the stone oven or home-made bread and cakes. The public areas in the main building include a large dining room, bar and games area, as well as comfortable chairs for relaxing.

Our comments
A large hotel with good facilities for the area.