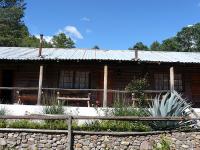 Sierra Lodge
Location
Cusárare (The Copper Canyon, Mexico)
Description
Twenty minutes from Creel, this charming and very rustic lodge built of logs sits on the banks of a river overlooking pine-covered slopes. There is no electricity but rooms have kerosene lamps. Dinner is by candle-light and very romantic. Food is freshly prepared and delicious.
Activities
Guests can walk along the river to some very impressive waterfalls. The lodge is in the main central area for excursions to the key sites of the canyon.
Accommodation
There are 22 large rooms with a variety of bed options, and a little house at the end of the row which would be great for a honeymoon couple or a small family.
Our comments
This is a wonderful place to stay for several nights, to allow full enjoyment of the beautiful scenery and hiking opportunities all around.