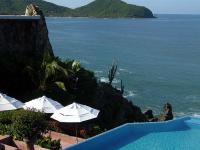 La Casa Que Canta
Location
Zihuatanejo (The Pacific coast, Mexico)
Description
Cut into the hill-side, this gorgeous hotel has stunning views over the sea. A path leads over the hill and round the bay to Playa Ropa - a five minute walk.
Accommodation
Rooms are beautifully decorated, some with their own private pool - all have sun decks and most have hammocks.
Our comments
A beautiful hotel in a great position.