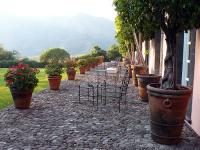 Hacienda de San Antonio
Location
Near Colima (The Pacific coast, Mexico)
Description
A stunning luxury property set in a beautiful area of the country, surrounded by rolling hills and volcanoes. There is a large pool with views to the volcano of Colima and there are plenty of living rooms and terraces from where to enjoy the views and relax.
Activities
Riding, mountain biking, hiking, birdwatching or even milking a cow.
Accommodation
All suites are large and the master suites have a separate lounge.
Our comments
A real treat to stay here.