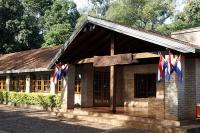 Hotel Papillon
Location
25 minutes from Trinidad (The Southern Missions, Paraguay)
Description
Trinidad is around 1 hour from Encarnación. Hotel Papillon is a modern restaurant come motel and makes for a convenient base to visit the Trinidad Mission. Comfortable with good food, there is even a small pool out the back behind the accommodation blocks.
Accommodation
There are 40 rooms set in 3 blocks around the garden.
Our comments
Comfortable and convenient though right on the highway.