The capital Asunción and surrounding towns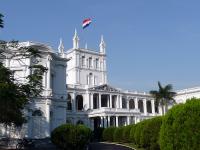 The pleasant capital, Asunción, becomes a hub of life during the week, but is more like a quiet village on a Sunday when locals head out of town or spend time with their families. It is easy to travel around, and the smell of jasmine often lingers in the air. The river front on the Paraguay river is busy and vibrant. There are several small towns within easy reach of Asunción, all with their own charms.
Our preferred accommodation
City hotel - Historic centre

A central hotel with friendly and helpful staff. There is a good sushi restaurant and a spacious terrace with a rooftop pool. Throughout the hotel you will spot items collected by the owner and brought back from all over the world.

City hotel - New downtown

A lovely hotel only 15 minutes from the airport and within easy reach of the older parts of the city. Each floor is decorated differently and the restaurant serves delicious food. The rooftop terrace has a pool and on Friday and Saturday evenings food is served there while a live band plays.