In the second programme, Michael Palin travels by riverboat along the mighty Amazon River, upstream from the mouth at Belém to Manaus, watching ribeirinhos pass their day and visiting remote tribes to see how the modern world has impacted their tradition and culture. He also visits Manaus and Brasilia, two very different cities, to discover how history has shaped them both.
The Amazon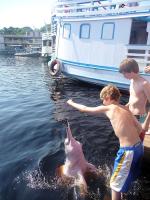 Pink river dolphin
The Amazon rainforest spreads from Brazil into Venezuela, Colombia, Ecuador and Peru, and is home to a plethora of insects, frogs, birds, reptiles and animals. Visiting the Amazon is a life-enriching experience whether staying in a rustic lodge or meandering along the Amazon by traditional wooden riverboat. There are opportunities to fish for piranha, paddle dug-out canoes, swim next to wild Amazon pink dolphins and spot caimans at night.
Manaus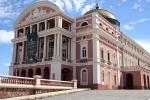 The Manaus Opera House
Manaus is the gateway to the Amazon and worth spending a day or two to explore. It has an interesting colonial history and became famous during the first rubber boom: 1879-1912. To keep the rubber barons entertained in the jungle (both in Manaus and Belém) elaborate Renaissance opera houses were built. Today it is home to the Amazonas Philharmonic Orchestra and there is an atmospheric annual music festival of music.
Brasilia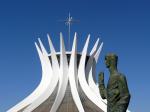 Cathedral
Capital of Brazil since 1960, Brasilia is in stark contrast to the haphazard streets of Manaus, and the wide roads are wide, empty and clean! During the late 1950's the majority of architecture was designed by a young Oscar Niemeyer (now living in Rio and still designing), in the hope that Brasilia captured and embodied the futuristic vision of the national slogan "order and progress". The use of concrete as a main material for the buildings was unique at the time and the centre has now become a UNESCO World Heritage Site.