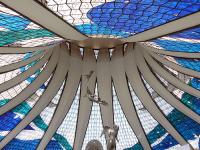 Brasilia is a modern metropolis, named federal capital in 1960. Designed and purpose-built over four years during the late fifties by the young architect Oscar Niemeyer, it is a futuristic vision of Brazil's intent - testimony to the national slogan 'order and progress'. From above, the city resembles an aeroplane (or a butterfly to the more romantic).
North of Brasilia is one of the biggest national parks in central Brazil, the Chapada dos Veadeiros. The 65,000 hectare park, a UNESCO World Natural Heritage site, helps to protect the flora and fauna of the cerrado: a combination of savanna dotted with moriche palms and gallery forest.
Our preferred accommodation
City hotel - Northern hotel sector

A smart and comfortable (if slightly dated) 5* business hotel. There is a small pool on ground floor.

City hotel - Central Brasilia

A 5 star hotel in the Brasil XXI complex, between the Television Tower and 50 meters from the City Park. It is conveniently placed for the commercial and financial districts, the Esplanade of Ministries and the cathedral.

Beach hotel - South of the centre

A design hotel away from the city centre, with views of Paranoá Lake, and next to the Palacio Alvorada (the president's official residence). There are several restaurants, 3 swimming pools, a fitness centre and 2 bars.