Welcome to an autumn update from Last Frontiers. In this issue:
♦ Menagerie a trois! Jill in Costa Rica, Nicaragua and Panama ♦ Jungle and lost kingdoms - Ali in deepest, darkest Peru ♦ Planes, trains and scarlet ibis - Ed in southern Brazil ♦ New luxury cruise to Patagonian glaciers ♦ Last Frontiers in the press - Barefoot Uruguay ♦ News from the office - Mill wins award
Menagerie a trois! Jill in Costa Rica, Nicaragua and Panama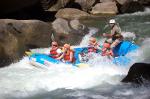 Rafting in Costa Rica
I was lucky enough to return to Costa Rica earlier this year and was delighted to discover comfortable and stylish jungle lodges and cloud forest retreats, far from the crowds. I then popped over the border to a gorgeous private island on Lake Nicaragua, before ending my adventure in Panama, up in the beautiful highlands of Boquete, a bird-watchers paradise. This is a link to my full Central America report.

Ali in deepest, darkest Peru!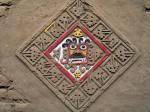 Huaca de la Luna
It has been five years since I was last in Peru and I have been longing to return for some time now. My month long trip was spent staying in Amazon lodges in Tambopata, sailing on a luxurious Amazon boat and visiting many archaeological sites along the northern coast. I then travelled inland to the lesser visited cloudforest area and sites surrounding the town of Chachapoyas. Follow this link to read more about my memorable Peruvian trip.
Planes, trains and scarlet ibis - Ed in southern Brazil!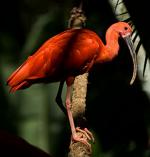 Scarlet ibis return to Paraná
In September, I travelled to Brazil to attend a travel conference in São Paulo - more interesting than it might sound I have to add! However, more importantly this gave me the opportunity to explore Paraná state south of Rio, a fascinating area that encompasses colonial cities, Atlantic rainforest and picture-postcard beaches, not to mention that small detail of Iguassu Falls. My journey started from the state capital Curitiba where I boarded the classic Serra Verde Express and took off on one of South America's most dramatic train journeys. Follow this link to continue my Brazilian story:

Brand new Patagonian cruise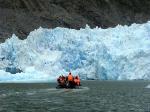 In front of San Rafael glacier
The luxury cruise liner Mare Australis has teamed up with the Chilean ferry company Navimag to offer a unique four day Patagonian cruise to visit the stunning Laguna San Rafael glacier hidden away in the picturesque fjords south of Chacabuco. Passengers embark the Mare Australis in Castro, the regional capital of Chiloe before setting off into the Gulf of Corcovado. Navigating south into the Moraleda channel, the ship reaches the Laguna San Rafael on the morning of the third day where passengers have the chance to take a zodiac right up to the face of the glacier. Returning north, passengers disembark in Chacabuco on the fourth day or can continue on to Puerto Montt reaching the port the following morning. For the moment, departures are limited to January and February 2011 and cabins start from USD$2,042 per person. Please contact us for more information.
Barefoot traveller in Uruguay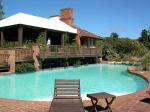 L'Auberge, in Punta del Este
We were delighted to read Peter Browne's evocative article in the December 2010 issue of Condé Nast Traveller called 'Barefoot on the beach'. We helped organise his trip around Uruguay, which mainly concentrated on small and charming hotels and ranches from Carmelo to newly-chic José Ignacio. It's good to help make another Latin American fan!
News from the office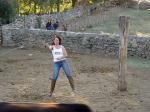 Becks and lasso
We were very flattered that last week our local council gave our converted Mill a design award, calling it a 'labour of love', but puzzling over a chain arrangement by our entrance (which is actually a clever way, borrowed from an Argentine estancia, of getting rainwater to the ground without splashing).
Finally, we wish Rebecca all the best during her maternity leave which started a few days ago. Here is a picture of her in her more athletic days (soon to be restored)..
With best wishes from Edward and all at Last Frontiers
Edward Paine
Last Frontiers Limited
Email: info@lastfrontiers.com
Web: www.lastfrontiers.com
Tel: 01296-653000
"We are back safe and sound after a fantastic time in the Galapagos, it exceeded all our expectations. The flights, transfers etc ran like clockwork - there was always someone to meet us with the right tickets - thank you for the excellent organisation. Now busy trying to sort out the hundreds of photos. It was an amazing trip and we would thoroughly recommend it to anyone else! Many thanks for your excellent organisation and helpful handbook."