Welcome to our latest Last Frontiers newsletter, with our customary round-up of staff travels and news from Latin America.
In this issue: Office news ♦ Last Frontiers' Top Three: Summer holidays ♦ Oli in Ecuador and the Galapagos ♦ Sue in Chile and Argentina ♦ Travel events - dates for your diary
Office news
We have had a very busy start to 2013, so we have not been able to escape our cold winter as much as we would have liked. Despite that, Oli has been to Ecuador, Sue spent Christmas in Chile and Argentina, and as we write Jonny is driving the Carretera Austral in Chile so it's not all hard work.. Finally, I am delighted to report that Rebecca welcomed baby Jemima May at the end of January. We wish her, James and young Henry the best of luck with their new arrival.
Our Top Three: Summer holidays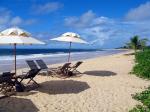 Beach in Brazil
Latin America has such variety that whenever you wish to travel there is always somewhere with great weather.
Costa Rica is a great choice: May to October is called the 'green' season - warm and sunny with some afternoon rains. At this time you can take advantage of lower prices and if you are travelling with children there is something to keep all ages entertained!
It is officially winter in Rio (don't let that put you off going to the Olympics in July 2016) but in north-east Brazil temperatures are still in the high 20's. It's easy to combine the wildlife of the Amazon rainforest with some time exploring the dunes of Lençois Maranhenses National Park and then end with a relaxing stay on a beach. Have a look at this family adventure itinerary.
Our third recommendation is for something totally different - northern Argentina. Our summer is their dry season so you can take a 4x4 and explore the Humahuaca valley or even head up to the Bolivian border. This itinerary (Salta, Iberá, Misiones and Iguassu) will give you a flavour.
Oli in Ecuador and Galapagos - Ama La Vida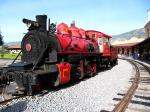 Steam train, Quito
Oli was invited by the Ecuadorian Tourist Board last November on a trip taking in some of the highlights of this fascinating corner of South America. Ecuador has been firmly on the tourist trail for many years but the government is trying to increase opportunties for visitors to enjoy new aspects of the country. Their focus is on exhibiting the diversity of the landscapes, the people and the ways in which to explore nature without disrupting the natural balance and tradition. Do read his full Ecuador and Galapagos report.
Sue in Chile and Argentina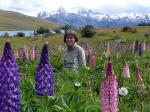 Sue in lupins, in Torres del Paine
As a keen rider Sue had always wanted to do the Puelo Valley ride from Chile to Argentina. She managed to escape the office in December 2012 to join a Christmas ride. With Chile being the land of extremes she decided to maximise every opportunity and extend her trip to visit the Atacama Desert in the far north and Torres del Paine National Park in the far south. She spent the final few days exploring the southern Lake District in Argentina. Read more on Sue's trip to Chile and Argentina.
Travel events - dates for your diary
We are full of ideas for our next client event (Sunday 9 June at Cavendish Hall in Suffolk). Further details will be sent nearer the date.
With best wishes from all at Last Frontiers
Tracy Mendelsson
Last Frontiers Limited
Tel: 01296-653000 | info@lastfrontiers.com | www.lastfrontiers.com
The Mill | Quainton Road | Waddesdon | Buckinghamshire | HP18 0LP
Facebook | Twitter | Google+
"We had the best time - thank you so much for all your great organizational skills - I think you worked the itinerary out brilliantly with my very brief request to you and hopefully we can plan more travels with Last Frontiers!"