When I spotted the Christmas departure of the Puelo Valley ride from Chile to Argentina and was also offered the opportunity to experience some of Chile's wonderful highlights with a friend, I jumped at them all. The Atacama desert exceeded my expectations and the scenery in Torres del Paine is spectacular with excellent walking and riding. The final few days in the southern Lake District in Argentina was a real bonus and there is also some good fishing in the region for anyone interested.
Sue peering over a precipice between Calama and San Pedro
After an initial night in Santiago at Lastarria Boutique Hotel, where we were made extremely welcome, we flew up to Calama for a 3 night stay in Awasi, San Pedro de Atacama. As soon as you arrive into Calama airport you really do feel like you are in the desert! Awasi is a little haven, we loved it and nothing was too much trouble – it's small, personal, very comfortable and the food was excellent. All excursions from Awasi are with a private guide and ours was great. He went out of his way to show us as much as possible and the whole region more than lived up to expectations – salt lakes, canyons, huge sand dunes, geysers, Atacamenian villages, hot springs, birdlife, wildlife, stunning scenery etc – the list goes on and we maximised every opportunity. The sunrises and sunsets were wonderful, as were the stars, and you really do need 3 or 4 days to fully appreciate the region.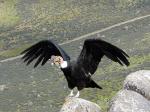 A condor prepares to take to the air in Torres del Paine
After another night in Santiago at the charming boutique hotel, Le Rêve, it was then time to fly south. Having been driven around in the Atacama we opted to hire a vehicle in Punta Arenas to drive to Torres del Paine National Park (about 5 hours). Having left the desert we were suddenly in Patagonia, quite the extreme with wide open spaces, wilderness, glaciers and snow capped peaks. We had a wonderful 4 night stay at Tierra Patagonia, just on the outskirts of the national park, with a fantastic view over Lago Sarmiento and to the Towers of Paine. The staff are superb, a wide range of excursions in small groups, both within the park and outside the park, are included and if you enjoy stunning scenery, hiking, wildlife etc, with the added bonus of returning to a comfortable hotel with a spa and excellent food, you will not be disappointed.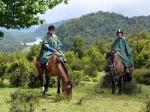 Sue and Linda riding in the Puelo Valley
It was then time for the Puelo Valley ride from Puerto Varas, Chile to El Bolson, Argentina. Cathy Bérard, the owner of Open Travel and our guide for the week, was exceptional. She takes the utmost care to ensure everything runs as smoothly as possible and we had been provided with good pre-departure information on what to take. She has some lovely horses and the route is unique - we swam the horses across rivers, rode through some beautiful valleys with snow-capped peaks, across farmland, through ancient forests and to the face of a glacier. The logistics in organising such a ride are incredible, we travelled by mini-van, ferry, boat, horse and on foot. The only communication is by radio contact and we stayed with local families living in isolated valleys, only accessible by foot or by horse. For us one of the most memorable things was the experience of staying with the families, every day we were welcomed with homemade cakes for tea and each evening dinner was a feast. We couldn't have been made more welcome, everywhere had hot water (limited at times!) and we felt very lucky to be there.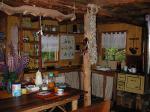 Kitchen in the cottage on Bandurrias Island
The local guides and gauchos were all excellent too and when we finally arrived to Bandurrias Island on Christmas Eve we received a wonderful welcome from Cathy's mother. It was an amazing place to end – we stayed in the cottage, were very well fed and could have stayed longer. Sadly, we didn't have very good weather (lots of rain and low cloud) and so the scenery didn't quite live up to expectations. It is particularly unpredictable in this area so you do need to be prepared, but you would be very unlucky to get a week of rain. All in all it was an unforgettable week. It is a slow paced ride but a reasonable level of riding is needed as days in the saddle can be long, there are some very steep ups and downs and the crossing of deep rivers can be tricky. Thanks Cathy for looking after us.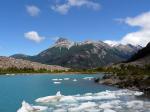 Icebergs from the Torrecillas glacier in Los Alerces
For our final few days in Argentina we based ourselves in Esquel where our excellent guide, Jeremy Wood, gave us a wonderful insight to this beautiful region. The scenery in Los Alerces National Park is stunning with turquoise rivers, lakes, glaciers, temperate rain forest and good birdlife. There is some excellent hiking and staying in the park for 2 or 3 nights gives you the opportunity to fully explore.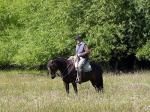 Gaucho near Trevelin
Jeremy also took us into the true wilderness and very unspoilt, Patagonian scrub-like area near Gualjaina, about 2 hours from Esquel. There is a huge rock, Piedra Parada, volcanic craters, petrified wood, rock paintings, unexplored canyons etc, plus the famous Killer Bunny that Jeremy had told us about. The scenery could not have been more different to our day in Los Alerces and was not unlike the Atacama at times! Time was also spent visiting Trevelin and learning more about the Welsh Explorers arriving to the region. Many thanks to Jeremy and his wife, Cristina, for all they did to make us welcome.
After a final night in one of our favourite boutique hotels, Nuss Buenos Aires it was back home and back to work. It was a wonderful trip with plenty of excellent food and wine and I returned full of enthusiasm, as always. I have no hesitation in recommending any of the properties or regions visited and thank you to all those who made it possible.