Welcome to a post-Wimbledon round-up of Latin America news and staff travel.
In this issue: Office news ♦ Last Frontiers' Top Three: Home away from home ♦ Ed in Patagonia ♦ Jonny in Costa Rica ♦ Brazil: when the dust settles

Office news
We welcome new recruit Fran, who is settling in very well after a move south from the Lake District and already has her sights set on a trip to Central America later in the year. It was lovely to see several of you at our Inspirational Globe travel day at Fetcham Park: we are planning an autumn event in London and will let you know when we have more details.
Last Frontiers' Top Three: A home away from home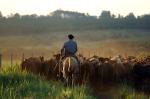 Driving cattle on the estancia
Santa Cecilia - Misiones (Argentina)
A real hidden gem, Estancia Santa Cecilia, set amongst the rolling countryside of Misiones, is owned and run by Sylvia Navajas and her son Carlos and all guests are made to feel completely at home. A working farm with over 5,000 head of cattle and 300 horses, all visitors are encouraged to help out with daily farm activities. Not far from the Jesuit ruins of San Ignacio, this is also the perfect place to relax and unwind.
"We loved Santa Cecilia, what a wonderful, warm welcome! It felt like staying with friends - nothing was too much trouble. Sylvia was the perfect hostess, and dining on the lawn by candlelight was a highlight. We had a bird walk and a BBQ with the gauchos, as well as seeing the work they do on the estancia." - JB, November 2013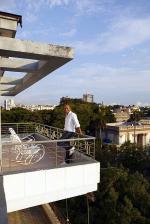 Ydalgo at home in Havana
Penthouse Ydalgo - Havana (Cuba)
Becks made this discovery last month (she will be writing about all her new findings in Cuba in our next newsletter). Ydalgo is this chic penthouse's charming, friendly host. His home is full of works by Cuban artists which he has carefully collected over the years, and the terrace is perfect for a mojito or cuba libre. He has all the inside information on what's happening in Havana from music, art exhibitions, ballet, salsa classes and the best local paladars (restaurants). Penthouse Ydalgo really is mi casa es su casa - my house is your house.
"Ydalgo is so charming and I loved his artistic eye! The terrace is wonderful for watching daily life and feeling like a proper local. He really added another dimension to my stay in Cuba." RR - May 2014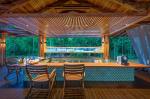 Cristalino's stylish bar
Cristalino Lodge - Alta Floresta (Brazil)
Reached by short flight from Cuiabá (northern gateway to the Pantanal), Cristalino Lodge is in a particularly protected corner of the southern Amazon rainforest. Owner Vitoria da Riva and her son Alex were at the Mill a couple of weeks ago and reminded us what a stunning and welcoming lodge they have created (her daughter is an architect). Alex personally welcomes everyone to Cristalino, where an observation tower and tree house add to the rich wildlife experience, in some comfort.
"The small, beautiful lodge is the only one in the extensive Cristalino reserve and our excursions were in very small groups. We felt like we had the rainforest to ourselves!." - GH, Mar 2014
Ed in Patagonia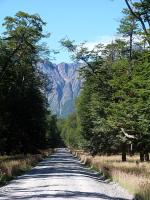 Near Villa O'Higgins
I was indulging a long-held dream to complete my drive along the Carretera Austral, which links Chile's Lake District with the snow-capped Patagonian Ice Field. It has taken me a few years to convince my wife of both the smoothness of the gravel roads and to ignore the possibility for rain. After encouragement from cousins keen to break a long journey to the Falklands, and the promise of world class fishing, I finally prevailed. Read my Patagonia trip report here.
Jonny in Costa Rica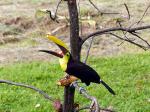 A hungry toucan
In May Jonny became the latest member of the Last Frontiers team to visit Costa Rica, recently voted Latin America's friendliest nation. In two weeks he travelled across the country, staying in all kinds of accommodation from remote jungle lodges to luxurious mountain hideaways. It was an activity-packed trip, including zip-lining and waterfall rappelling, but thankfully he came home in one piece! Read about his Costa Rica experiences here.
Brazil: when the dust settles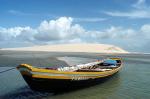 Jericoacoara
The World Cup might have been disappointing for England fans but the Latin American contingent, out in force, are having a ball. If you fancy a trip to Brazil we now have 3 itineraries on our website, the last of which (north-east Brazil) works particularly well in our summer (or if you are travelling as a family).
Or, for anyone else who has been distracted and hasn't yet planned their summer holidays we have just received some fantastic offers on Galapagos cruises in July and August.
With best wishes from Edward and all at Last Frontiers
Edward Paine
Last Frontiers Limited
Tel: 01296-653000 | info@lastfrontiers.com | www.lastfrontiers.com
The Mill | Quainton Road | Waddesdon | Buckinghamshire | HP18 0LP
"Our holiday in South America was great - one of the best! The way the holiday was structured was just right for us, giving us enough time to select the various activities that appealed. All in all it was a splendid holiday which we will remember in years to come so we thank you at Last Frontiers for organising everything so well." - BJ