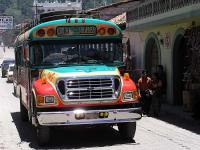 The market town of Chichicastenango has a large and colourful Sunday and Thursday market. If time allows, it is worth arriving the night before to watch the stalls being set up and visit early the following morning to avoid the crowds.
Travelling west of Chichicastenango, Quetzaltenango, also known as Xela, is a good base for walking. Within reach are Sanguito volcano (Central America's most active), Laguna Chicabal (an extinct volcano with a crater lake venerated by the Maya), or the dormant volcano Cerro Quemado.
The Cuchumatanes mountains extend north from the town of Huehuetenango to the Mexican border. Their 3,000m plateau is densely populated and most of the rocks are limestone, which have been used to make walls to keep sheep, goats, horses, mules and donkeys in their fields.
Our preferred accommodation