Traditional markets and beautiful scenery
The rugged mountain scenery and Maya culture alive in the southern highlands are the highlight of most visitors' experience in Guatemala. The natural setting is beautiful, with a chain of volcanoes that strides through the heart of the land. The strength of indigenous culture is all-apparent in the people's costume, fiestas, religious practices and language.
Guatemala City, the capital, is a large commercial city with little to detain the visitor. Just 45 minutes' drive from Guatemala City, Antigua was the capital of Guatemala until an earthquake destroyed it in 1773. Today it is a beautiful city with cobbled streets and colonial houses, a wide range of museums and interesting architecture, all of which is easily explored on foot. There are also good shops, excellent restaurants, and many charming boutique hotels.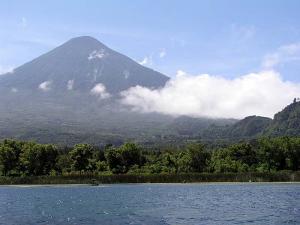 Lake Atitlán, 2 hours north-west of Antigua, is over 17 kilometres wide and surrounded by three volcanoes. The villages on the shores of the lake each have their own traditions, clothing and handicrafts. One of these villages, Santiago Atitlán, holds the idol Maximón, a wooden sculpture decked in scarves and smoking a cigar, and a clever amalgamation of Catholic and Maya religious beliefs.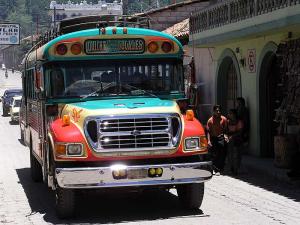 The market town of Chichicastenango has a large and colourful Sunday and Thursday market. If time allows, it is worth arriving the night before to watch the stalls being set up and visit early the following morning to avoid the crowds.