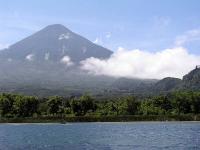 Lake Atitlán, 2 hours north-west of Antigua, is over 17 kilometres wide and surrounded by three volcanoes. The villages on the shores of the lake each have their own traditions, clothing and handicrafts. One of these villages, Santiago Atitlán, holds the idol Maximón, a wooden sculpture decked in scarves and smoking a cigar, and a clever amalgamation of Catholic and Maya religious beliefs.
Our preferred accommodation

means that the hotel is one of our Dream Destinations.
Inn/Posada - Santa Catarina

Beautiful hotel on a hill above the lake, with just 8 rooms, small heated pool and terrace with views to the volcanoes. There is also 2 bedroom villa which offers stunning views, total privacy and butler service.

Country hotel - Panajachel

The hotel is on the outskirts of Panajachel, by the lake. There are pretty gardens, a restaurant and a pool with lovely views over the lake.

Inn/Posada - Santiago de Atitlán

A friendly hotel with character on the lake shore, just 5 minutes from the main port, with its own launch. There is a rustic style restaurant, a pool, hot tub and pretty garden.