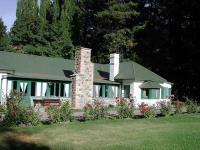 Estancia Alicura
Location
Around 130km north-east of Bariloche (Bariloche and Villa la Angostura, Argentina)
Description
An estancia, once part of the Argentine Southern Land Company, mainly geared to fishing and stalking (8,000 hectare enclosure with reared trophy red deer).
Activities
Fishing (November to April). Popular excursions are to San Martín, Bariloche, the 7 lakes, and Pucón. Stalking in March.
Accommodation
There are 4 rooms (plus the owners suite) in the original farmhouse. Very nicely decorated, sitting and dining area with TV/video/CDs and a fireplace. Kitchen with a chef and all mod cons. All rooms have Jacuzzi bath, and can have double/twin beds. There is a separate building with 2 and 3-bedroom units (3rd bedroom is a single, intended for a nanny). All bedrooms have own bathrooms and there is a sitting/dining area where breakfast can be taken.
Our comments
This is perhaps not the best fishing in the area, but the service and attention are top notch, and the accommodation is very comfortable.