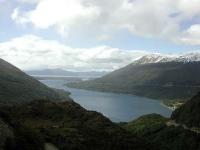 Just north of the Andes (which run east-west at this point) and 230km north-east of Ushuia, is the Rio Grande river, renowned world-wide for the quality and size of its sea trout (and the fierceness of its winds!).
Our preferred accommodation
Lodge/Hosteria - South banks of the Rio Grande - Saturday

A comfortable, purpose-built fishing lodge on the south of the river with a fine reputation for sea trout. All meals, wines and local spirits included. There is a massage, sauna and steam room.

Lodge/Hosteria - Estancia José Menéndez, near Rio Grande - Friday

Villa María is about 10km from Rio Grande airport and on the south side of the Rio Grande river. Sleeping just 6 anglers, this is one of our favourite sea trout lodges, not only for the quality of the fishing, but also for the range of activities for non-fishing partners.