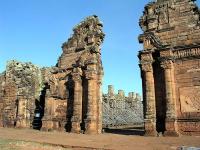 Misiones province, which takes its name from the missions built by the Jesuits in the 17th century, is widely forested and is where most of the tea-like drink known as mate is grown. The best preserved of the missions is San Ignacio Mini, about 250km from Iguazú, but there are several others nearby whose crumbling stone walls emerge from luxuriant jungle vegetation.
Our preferred accommodation
Estancia/Ranch - 20km from Posadas

Built in 1906 in English Tudor style, with a huge dining room, pretty gardens, an outdoor terrace where meals can be eaten, and an outside swimming pool.

Lodge/Hosteria - 165km east of Posadas

Tacuapí Lodge is set in 13,000 hectares of dense jungle in the heart of Misiones, about 2½ hours from Posadas. The owner, Julio, is an active conservationist and has designed the lodge in such a way to minimize the impact it has on the forest. The lodge is built from reclaimed wood and the food is excellent.

Lodge/Hosteria - 95km east of Puerto Iguazu

An environmentally friendly lodge in the heart of the Argentine rainforest and excellent for wildlife, especially birds. Two hours drive from the Iguazu falls, the lodge and private reserve comprises of 570 hectares of primary and secondary interior Atlantic rainforest set on a peninsula on the banks of the Paraná river opposite Brazil. There are a number of well-maintained trails, a short, wooden canopy walkway as well as a humming-bird and orchid garden.