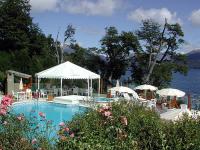 Hosteria La Posada
Location
2km from Villa La Angostura (Bariloche and Villa la Angostura, Argentina)
Description
Well furnished hotel with views over Lake Nahuel Huapi, a lovely swimming pool and good restaurant.
Activities
The whole area, much of it protected under the National Park system, is one of outstanding natural beauty with cascading rivers emerging into serene lakes and dense forest. Fishing, riding, white-water rafting, water skiing and wind surfing can be organised locally.
Accommodation
Rooms (some with lake view) are comfortable and have cable TV and phone.
Our comments
Lovely hotel with a great location. Hire car is useful to explore the area too.
When to go
October to April. July to September for skiing (Cerro Bayo). The hotel is closed in June.
Client comments and reviews
Hosteria La Posada was stunningly situated on an outcrop above Lago Correntoso with glorious distant views of snow-capped Chilean peaks. The gardens were lovely and well-kept, as was the 'cliff walk' stairway down to the jetty, and the pool and bar area perfect for lounging with fluffy white robes and towels provided. The décor in the bedrooms was perhaps a little tired, but we were perfectly comfortable and everything that we needed was provided. The public rooms were not too shabby but still quite chic and totally my idea of welcoming. There were so many welcoming corners and mezzanines where you could sit yourself down on a capacious comfy sofa, or curl up in an enveloping armchair to read your book or flip through any number of large format photograph and art books, or else compare notes over an after-dinner drink with other guests. It really did feel more like a home and the original architect should be congratulated for coming up with such an imaginative and congenial use of space. The only disappointment was the rather dull dining-room, though the delicious and nicely presented food, and the smiling service certainly helped raise the ambience to one of good cheer. - JB (February 2018)
Overall excellent with good location and superb views. The staff were helpful with good English, the beds are very good and the food was very good too. - HH (February 2017)
Incredible location, really lovely staff and attentive service with a brilliant restaurant. Definitely worth hiring a car around here. The hotel also had the best wine selection of anywhere we stayed! - EV (November 2015)
A stunningly located hotel. An increase in the temperature allowed us to take advantage of their poolside deck in the afternoon after mornings exploring the walks and the ski lift area. Stunning views over the still waters of the lakes and the Andes in the background. - MR (November 2014)
The view from our room at La Posada in Villa La Angostura and the scenery in the Lake District in general was pretty amazing.  We made the effort to do the 7 Lakes drive and we wished we had longer to spend in San Martin de los Andes. - SW (February 2009)
The hotel in Villa Angostura (La Posada) was superb. The view from the pool area was to die for. - CD (January 2007)
9/10 It has to score highly because of its position and fantastic view. The staff were very friendly and helpful, the food good and the pool excellent. The bathroom was small but fine. - K&ST (January 2007)
We found Hosteria La Posada quite lovely. Fabulous rooms, the most amazing views from our bed, lovely people, great food, all fab, fab. - PD (January 2006)