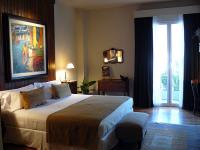 Legado Mitico
Location
Palermo (Buenos Aires, Argentina)
Description
A small boutique hotel with character and style in the heart of Palermo. There are comfortable relaxing areas with a library on the lower floor where breakfast is served. There is a small sundeck and rooftop jacuzzi but no restaurant.
Accommodation
There are 11 rooms, each named after a famous Argentine and carefully furnished to represent that particular character. All rooms include a TV/DVD, mini bar, safe and a private bathroom with a bath. Deluxe rooms have more space and a larger bathroom.
Our comments
A good option in central Palermo.
Client comments and reviews
Great location, lovely rooms and good to have some outdoor space. - AM (March 2008)
I thought [the hotel] was very nice indeed. An excellent location and beautifully decorated. My only suggestion would be that there was some room service available (I managed to get some tea but that was about it) and that they put on a better restaurant menu even if short and simple (I only tried it one time and had a ministrone soup which I think was out of a packet!). The people who work there are excellent, friendly and efficient. - SC (March 2008)
We loved the hotel. The staff at Legado Mitico were fantastic. - RM (March 2008)