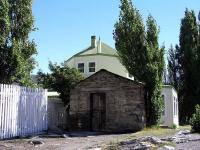 Estancia Cristina
Location
Near Upsala Glacier (Calafate, Argentina)
Description
In a very isolated but beautiful position very close to the Upsala glacier, accessed by boat from Calafate. The original estancia buildings have been sympathetically converted to provide a main restaurant, living room and an interesting museum. All meals are included for those staying overnight.
Activities
A 4x4 ride to a stunning viewpoint over the glacier, riding with gauchos, and trekking through canyons and to waterfalls.
Accommodation
20 rooms in 4 cosy and comfortable little houses, all with wonderful views and beautifully appointed.
Our comments
A real delight, hidden away in a remote part of Patagonia, but the peace can be disturbed by the number of day visitors.
Client comments and reviews
The glacier trips to Merino and Upsala were also highlights, fantastic colours and the visit and meal at Estacia Cristina brilliant. - JM (February 2009)
The highlight for us both was Estancia Christina because of its location, the quality of the trekking and the fact that we were the only guests there. The place is outstanding and we were amazed to be there. - JD (January 2008)
The accommodation and the setting are superb. On the afternoon we arrived we did a walk through the fossil canyon - 4 wheel drive to a great extensive view of the glacier and then down through the canyon itself past fantastically coloured rocks many with fossils. One of the best walks we have ever done. - DW (March 2007)
Estancia Cristina was the highlight of our trip to Argentina, what a special place, so poignant to feel yourself in the midst of such fascinating history and in such a remote place. The guides were excellent and we loved the solitary feel of the hotel, real peace. We would recommend staying two nights if possible.
- LL (March 2007)
The boat trip to Estancia Cristina via the icebergs was particularly impressive. - BH (February 2007)
THANK YOU for Estancia Cristina - it was absolutely fantastic - the best day yet! - ST (January 2007)
The Estancia Cristina was even better than you suggested, a good recommendation, thank you. - LG (December 2006)