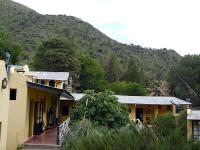 Estancia La Constancia
Location
200km south-west of Cordoba (Córdoba, Argentina)
Description
A wonderful family run estancia in San Javier, a 3 hour drive from Cordoba, surrounded by the hills and woodlands of a mountainous region which stretches to the edge of Sierras de Comechingones. The property is 1,500 hectares and the house, which was derelict for 40 years and has been renovated maintaining many of the original features, is at 1,400m. There is a small chapel, lovely gardens and natural swimming pool. The dining room is full of character with many old photos and meals are often eaten outside on the terrace.
Activities
Riding, hiking, bird watching and a lovely place to relax. The peak (Cerro Champaqui) behind the estancia is at 2,800m and the full day hike that takes you through the Cuesta de las Cabras, allows an excellent view of the valley of Calamuchita and the Traslasierra Valley.
Accommodation
The 9 rooms are comfortable with original furnishings, private bathrooms and a view either up to the mountains or down the valley. Rooms have no TV or phone but there is 24 hour electricity (powered by a generator) and hot water. The sitting room has a lovely fireplace, TV, board games, chess, a card table and lots of books.
Our comments
No children under 12.