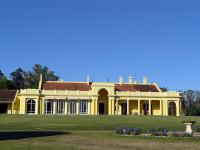 Estancia La Paz
Location
65km north of Cordoba (Córdoba, Argentina)
Description
La Paz is an impressive house with a Neo Classical look, much history and a wonderful setting overlooking a lake. It was originally built on an old landmark of the Camino Real and then became part of the Estancia Catalina until the Jesuits were expelled from America. The property is 2,100 hectares with wonderful gardens and 100 hectares of Oak, Walnut and Kapok trees.
Activities
Lovely swimming pool (not heated), tennis court, putting green (the green fee at Ascochinga golf course, 18 holes is included), polo (they have about 120 polo ponies and 2 polo fields), general riding around the estancia, bikes, spa (extra charge), games room and boats to take out on the lake. Tours to the nearby Jesuit Estancias and Dove shooting can also be organised.
Accommodation
The 20 rooms are all very comfortable and spacious with a private bathroom, polished wooden floors and a view either to the lake or the gardens. The main dining room and sitting room have a wonderful fireplace but meals are often eaten out on the terrace or in the gallery overlooking the lake.