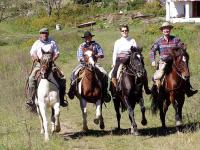 Estancia Los Potreros
Location
40km from Córdoba (Córdoba, Argentina)
Description
A 6,500 acre working cattle farm that has remained in the same Anglo-Argentine family for four generations, 40km from Córdoba, in the hills. The main house is steeped in family history with many references to the days of the Jesuits who first organised farming in the area before they were forced to leave quite suddenly in 1769. The hospitality and food are both excellent, there is an outdoor pool and lots of good horses.
Activities
Riding is the main activity (usually 4-6 hours per day) and they offer a variety of tours on horseback, either returning to the estancia, or camping in the hills and staying in local houses. The horses are well mannered, responsive and sure-footed, and most are either Criollos or Paso Peruanos with some crossbreeds. They also offer walking, polo, painting, birdwatching, golf (there are three 18 hole golf courses within 35km of the estancia), wine tasting and visits to local churches.
Accommodation
The 7 rooms are individual and tastefully furnished in keeping with the history and style of the estancia, and have their own private bathroom. There are also two family cottages with inter-connecting rooms.
Our comments
A wonderful family run estancia that make guests so welcome they often return! It is perfect for families, individuals and groups of friends. The minimum age is 10 and the minimum stay is 3 nights.
When to go
Open most of the year and the climate is generally sunny and dry. The rainy season is November to March.
Client comments and reviews
We had a great time, all your arrangements worked out very well and on the subject of Los Potreros - what can I say? From my perspective I wanted it to be the highlight of our trip, it really was the highlight and exactly what we both wanted. Thank you. - AD (November 2017)
The trip was fabulous and we were the only guests there so we had the ranch all to ourselves. My son was spoilt rotten by the gauchos and I think he has found kindred spirits in several of them. I was doing some of the more difficult rides with only one death defying moment and we have both got seriously hooked on polo. The only downside is that my son has slumped into a post Potreros depression and he is thinking of lying about his age and applying for a job as a guide! - FW (August 2012)
The trip went extremely well. We loved Los Potreros, got on well with Louisa and Kevin and it was very suitable riding. - JT (March 2010)
Los Potreros did us royally once again and Kevin and Lou are great fun and both so good with our daughter. It was also great that Kevin's brother Robin and family were there with their children - hard to believe it is all over. Of course the food is excellent and we had great riding. The other guests were very nice as well. - JO (December 2008)
We adored Los Potreros, though the weather was a bit unsettled. New Year's Eve was fantastic and the Begg family worked so hard to make it the success it was. We much enjoyed meeting the other clients, my wife rode twice a day, but after a first effort and a very sore bottom, I contented myself with happily marching across the countryside (hoping to avoid all the snakes, successfully) instead of on horseback. - IW (December 2008)
The Begg family at Los Potreros were very hospitable. They were a little bemused that we did not want to ride, but eventually talked us into it - against our better judgement. We loved it, had 2 sessions totalling about 3 hours, and it was a highlight of our holiday. - BD (February 2006)