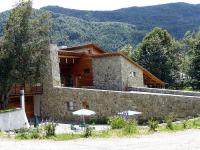 Lago Verde Wilderness Lodge
Location
Los Alerces National Park (Esquel, Argentina)
Description
In a quiet, idyllic spot on the lake shore of Lago Verde in the remote Los Alerces National Park. Self contained log cabins are dotted in the forest each with a cosy fireplace, sitting room and small kitchen. There is a separate restaurant for light snacks and a bar. Also know as El Aura. Closed in winter.
Activities
Ideal for fishing, close to the suspension bridge in the park, nature/walking trails, visiting Esquel.
Accommodation
Two cabins with a single bedroom and some cabins with two bedrooms and separate bathroom.

Our comments
Hire car in this area is essential, unless you are just there for the fishing.