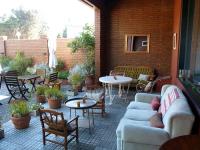 Las Bayas Hotel
Location
Esquel (Esquel, Argentina)
Description
A comfortable, stylish hotel in the centre of the town with spacious rooms, good facilities and an excellent restaurant.
Activities
A good base for visiting Los Alerces National Park, Trevelin, riding the Old Patagonian Express train (La Trochita) or heading inland to the canyons off the Chubut valley.
Accommodation
The 10 rooms/suites are well appointed and tastefully furnished. Facilities include a minibar and wi-fi internet connection.
Client comments and reviews
Huge rooms, what a great hotel! - AJ (February 2014)
We were pleasantly surprised by the Las Bayas Hotel and were given a very spacious and well-appointed room. Staff helpful and it is very well situated. We didn't eat in the hotel but can report that the pizza parlour on the main street is excellent. - TA (March 2011)