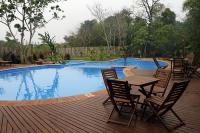 La Aldea de la Selva Lodge
Location
7km from Puerto Iguazú (Iguassu Falls, Argentina)
Description
A small cosy wooden lodge outside the National Park but in the forest and near the town of Puerto Iguazú. The lodge has a swimming pool with BBQ and bar area surrounded by lush rainforest vegetation. The restaurant is reached by an elevated footbridge!
Activities
Bird watching, Rappelling, Zip-lining and guided walks through the Parana rainforest.
Accommodation
Rooms are fresh, clean and comfortable. All rooms have their own private bathroom, outside terrace and relaxing hammock.
Client comments and reviews
Aldea de la Selva was fantastic - hammock on the verandah, comfortable big beds, 'jungle' trail in the grounds - good pretend substitute for those who don't have the nerve to go to the Amazon. Recommended. Staff were pleasant and helpful (when they were around!). - AS (November 2009)