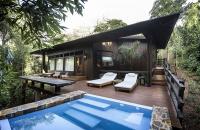 Awasi Iguaz˙
Location
15 minutes from Iguassu Falls (Iguassu Falls, Argentina)
Description
A luxury lodge nestled in the rainforest on the banks of the Iguazu river and just 15 minutes from the falls. Stone walkways connect the villas to the main lodge, which has a restaurant (for the exclusive use of lodge guests and offering delicious menus using local ingredients) and large living areas for guests to relax in.
Activities
All excursions are included and are on a private basis with an English-speaking, professionally trained guide and 4WD vehicle and are customised to guests' interests.
Accommodation
Each of the 14 private villas, built with native woods, has been designed to blend in with the surrounding jungle with minimal environmental impact.
Client comments and reviews
Loved the hotel. The guides were incredible, great excursions and food. Would recommend for sure. - JK (August 2019)
We enjoyed Awasi but the experience wasn't quite what we'd expected. The food was a bit too fussy and we found the atmosphere a little bit tense. The hotel pride themselves on their service and the staff are continually offering to assist, but we like to be left alone at times too. We didn't really do justice to the range of excursions and, in hindsight, would probably have been happier at either Das Cataratas or Melia Iguazu, nearer the falls. We also found the tipping guidelines a bit steep, although tips are optional. - DC (July 2019)
The Awasi was absolutely our sort of hotel - nothing was too much trouble for them. We were met efficiently from the Brazil airport and ferried across to Argentina, the welcome was warm and genuine and the programme was tailored to our needs and timing. There was no suggestion that we were part of a programme - although i am sure we were to some extent! The accommodation was superb, comfortable and well equipped and we liked the common areas which were relaxed informal and again tailored to our needs. The food was interesting and again they were happy to make what we wanted, but this might not suit people who want a more regimented menu and not so ethnic. All the trips we made were wonderful and we could have spent at least another day, possibly more - there is more to do in Iguazu than just the falls. - NW (June 2019)
Awasi - hard to fault. The rooms are very spacious and include everything you could need - including complementary wine! The public areas also very large with choice of inside or outside dining. Food excellent, and staff quality first class. It is truly all inclusive which makes for a very relaxing stay! In particular, their system of allocating a personal guide worked very well for us; our guide was prepared to be available 12 hours or more each day if we wanted. He made a point of sitting down with us soon after our arrival to explain the various options and plan our visit the way we wanted it - excellent. The Iguazú Falls are of course spectacular and the full day's trip to view was memorable. - MP (March 2019)
I thought the Awasi experience was lovely and certainly much more my idea of luxury than big blingy hotels. It's highly exclusive, and the setting in the middle of the rainforest is perfect - the outdoor dining terrace is at treetop height and is beautifully designed, as are each of the 14 villas. The food is really superb. The guides are incredibly knowledgeable too. Awasi excels in getting you away from the crowds and letting you enjoy a really private experience. All the excursions had the Awasi touch to them: the slightly touristy boat experience on the frontier of three countries was improved by a sunset picnic, and by a surprise visit beforehand to a hummingbird garden. - JS (February 2018)