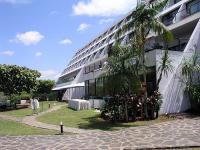 Gran Melia Iguaz˙
Location
Iguassu falls (Iguassu Falls, Argentina)
Description
A purpose-built hotel within Iguazú National Park, facing the falls and with easy access to the various walkways and trails. The hotel has 2 restaurants, terraces with views to the falls, an indoor and outdoor pool and a spa. It was called the Sheraton Internacional for many years.
Accommodation
All rooms (either Falls or Jungle view) are bright and airy with patio doors leading to a balcony.
Our comments
Very good position and unrivalled views of the falls more than make up for its lack of architectural merit.
Client comments and reviews
I had a lovely view of the falls from the Sheraton Hotel and managed to visit both sides. - JM (January 2014)
The Sheraton is a Sheraton. No better and no worse. However, we were better off in the Sheraton than anywhere else and saw the Falls from every angle. There had been a lot of rain just before we arrived so they were even better than usual. - HM (January 2010)
The Sheraton was all you would expect from such a hotel and the view from the bedroom of the falls was stunning. This was certainly a major highlight of the trip. We have visited Niagara and Victoria falls but this outshone both. The walkways on both sides allowed you too get right out to the falls and we took the boat trip getting very wet which was great as it was so hot. - B&JJ (January 2010)
Excellent hotel, good service and food was first class. Their Lobby Menu is really good if you don?t want a restaurant type meal. - DO (November 2009)
At the Sheraton Iguazu, we had the most fantastic view of the falls from our room. The view from the bar and dining room was pretty good as well. - SL (November 2008)
We loved the Sheraton (the staff were great) and the restaurant, though they were in the process of refurbing some rooms. We wonder if they'll still make the porters wear safari outfits once they bring the hotel out of its 1980s time warp! To be fair, they had already updated some amenities. - LL (July 2008)
Staying at the Sheraton was a big plus. - BH (February 2007)